MP3 is so widespread and popular today that it becomes a standard. It can be played on almost every type of multimedia devices on this planet: MP3 players, cellphones, smart TVs, etc. MP3 is also accepted by a vast number of multimedia software. You may have a lot of MP3 files and you may some editing work to make them usable, according to your purpose. Merging MP3 is quite a common editing need. Sometimes you may have a bulk of MP3 files that you want to join them as one: maybe they are interview audio that needs to be cut and combined; maybe they are recordings of a radio program, maybe they are narrations recorded for your video. Here we'll recommend some ways to merge MP3 files (you can also merge audio files in different formats).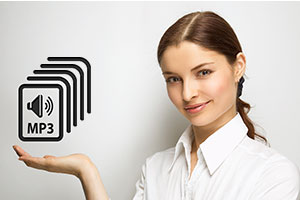 Command Line
If you don't want to or you can't download and install any program for some reasons, using command line is a "techy" way to get your MP3 files merged, which does not involve endless lines of code – just one line is enough:
copy /b *filepath.mp3 c:\merged.mp3
What should you do with this line of code? Press Windows + R, type in cmd and press enter. Now you will see the command prompt in which you can enter this line of code.
The "*filepath.mp3"part indicates the source directory of the MP3 files you want to merge and you should replace the "filepath" part with the correct URL path of the source MP3 files.
The "*" means that all the MP3 files will be merged in alphanumeric order. If you want to merge only the MP3 files starting with the letter a, just add "a" before "*", like "a*filepath.mp3".
"c:\merged.mp3" part defines the output directory and filename for the merged file and you can change them according to your needs or just use this one so that you can easily find it. After you enter the right code, press enter and wait until it's done.
Using the command line to merge MP3 is free but as you see, it's very tricky for inexperienced users and even impossible to accomplish for people who don't understand the meaning of the code. So please proceed to other easier ways.
Online MP3 Merger
If all you want is just an easy merging of 2 or 3 MP3 files and you have a fast network, online MP3 merger is a choice to get it done quickly. You can google "online mp3 merger", "online audio merger" or "online audio joiner" and you will find plenty of results that provide MP3 merging. Usually they ask you to upload your MP3 files to their server and click a button to start merging. Then you need to download the merged file to your computer. They may have this or that limitation like file format, size, duration, etc. Some may lack quality options.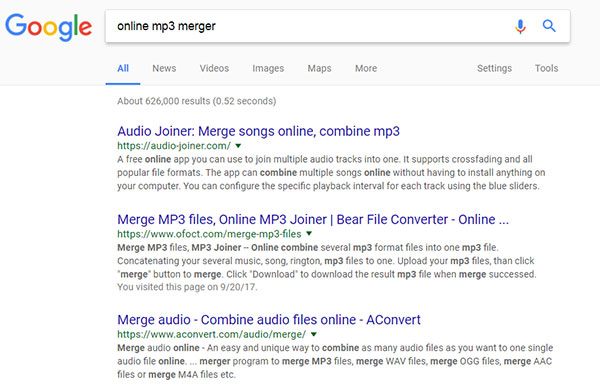 Free Merge MP3
If you need a stable MP3 merger that can do routine MP3 and audio merging work, Free Merge MP3 is the second to none choice. It is free MP3 merger software that can merge MP3 fast while many other audio formats are supported. It has no limitation, no strings attached, no hidden cost, no malware, no nothing. Download and check how amazingly easy it can be.